This store requires javascript to be enabled for some features to work correctly.

The rolling landscape of the Cycladic island of Paros — with its mountainous heaps, pine-fringed coves and white-washed fishing villages — casts a flawless frame around the timeless beauty that is Parīlio. Here, amongst 33 suites, the past, present and to an extent the future are seamlessly merged in a celebration of this fabled Greek escape.
Inspired by Cycladic simplicity, Parīlio's subdued color palette presents Cycladic architecture in a modern light. Distinctive features—such as arches, concrete columns, and thick masonry—are representative of traditional building techniques and help to create a sense of sanctuary. The lobby is a celebration of symmetrical arches.
Shop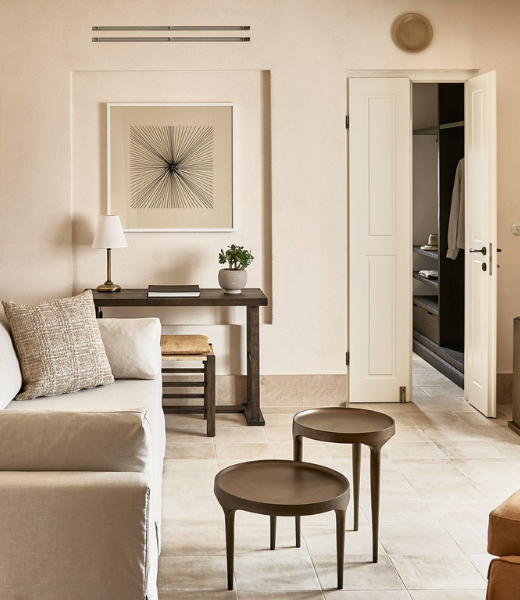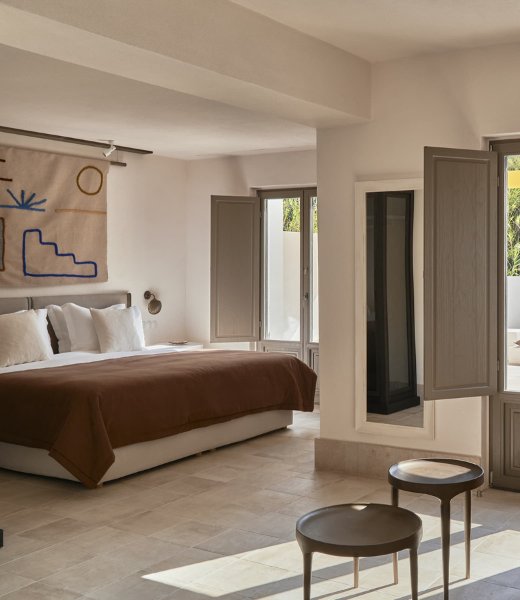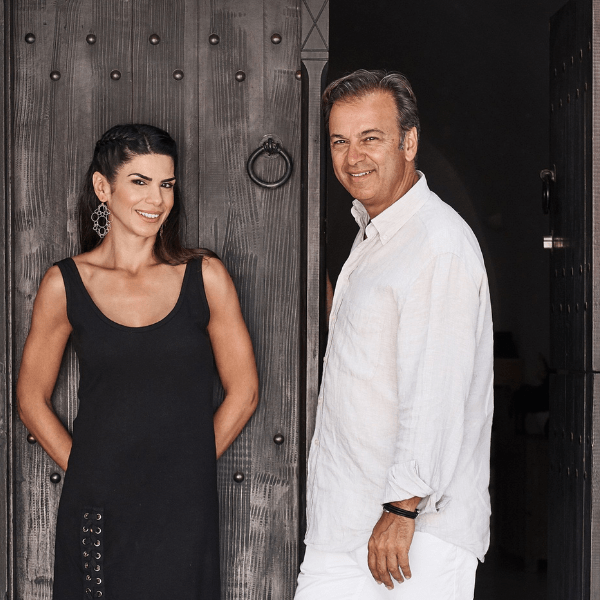 Meet the hosts - Kalia and Antonis Eliopoulos
"For us Parīlio, is a celebration of Cycladic simplicity—of brightness, calmness, warmth, and the island's carefree spirit. And that is the exact state of mind that Antonis and I are in this stage of our lives!"
Read more
Tips from the hosts
Tell us a little bit about Parīlio?

Parīlio's interior architect drew inspiration from the surrounding nature for the design of Parīlio and most notably from the Koukounaries hill where one of the most ancient and important acropoleis of the Aegean was discovered.
What's your favourite spot on Paros?

Our favourite spot on Paros is the scenic village of Lefkes, characterised by the island's distinct white windmills, craggy quarries, and whitewashed properties.
What's your favourite object in the hotel?

A replica of "The Fat Lady of Saliagos" which is exhibited in the hotel lobby. The actual historic relic, housed in Paros' archaeological museum, is the oldest ever found in the area and lies at the heart of the hotel's symbolism.
something most people don't know about the island of paros?

Paros is the third-largest island in the Cyclades. Its area is 195 square meters and its population is 12,853.
The rooms
Take a peek inside

Parīlio's Rooms are inspired by literal Parilios (parelion): Bright, sunlike optical illusions, often on a luminous ring or halo. Characterised by Paros' distinctive architecture and vibe, the hotel's 33 Suites are defined by a soothing, tonal colour palette and natural materials.