This store requires javascript to be enabled for some features to work correctly.
THE FLÂNEURS
Meet Alejandro Martinez, Founder of Nimu, Rome
Introducing Alejandro Martinez, the founder of NIMU, an Italian company founded in Rome in 2015. NIMU takes a unique approach to daily home textiles. Drawing inspiration from the radiant Mediterranean light and the timeless beauty of Roman architecture, the brand intertwines traditional textile methods with innovative techniques, resulting in understated and refined luxury for everyday moments. By embracing the concept of intimate luxury, NIMU finds a perfect balance between excellent quality and aesthetics. Their products embody exquisite natural materials and meticulous Italian craftsmanship. We sit down with Alejandro; Meet the flâneur.
What's your name?
Alejandro

Where are you from?
Madrid, Spain

Where do you live? 
Rome, Italy

Describe your brand in three words or less.
Discreet, sophisticated, qualitative.


Can you tell us about the name of the brand? 
NIMU comes from Numa Pompilius, the second king of Rome, who is credited with the creation of the 12 months calendar that we still use nowadays.

One thing people might not know about your brand?
Our production in Italy and Portugal use 100% Green energy. 

Where does the textile come from? 
Raw material comes from Egypt and Peru, where the best cotton grows. Then, the yarn is created in our factory in Italy to make the toweling.
Do you have a favourite pattern or one that represents your brand the best? 
Most of our patterns are geometrical, and come from the inspiration we find all across Italy, from architectural elements in places like Portofino or Puglia, to floor patterns in Rome or Venice. If I would need to choose one, I would say the triangle pattern found in Ravello and Puglia towels are very much NIMU.

How much does Italy influence your products? 
Every product we create is infused with Italian inspiration, from the patterns we choose for our towels, to the name we use for our products, paying homage to Italian places and Romans. The tiles in Rome are an incredible and endless source of inspiration for us. Also, our packaging is enriched by paragraphs on the city of Rome by Stendhal which makes us think about how the city has evolved in the last centuries and how they perceived this "Italian" allure.

How to choose the right towels for your home? 
They need to be in tone with the architecture of your home, to make you feel at ease, and of course being made of high quality fibres to last for a long time. A towel may be simple, but you need good ones.
NIMU
Discover the Collection
BLOG
Latest articles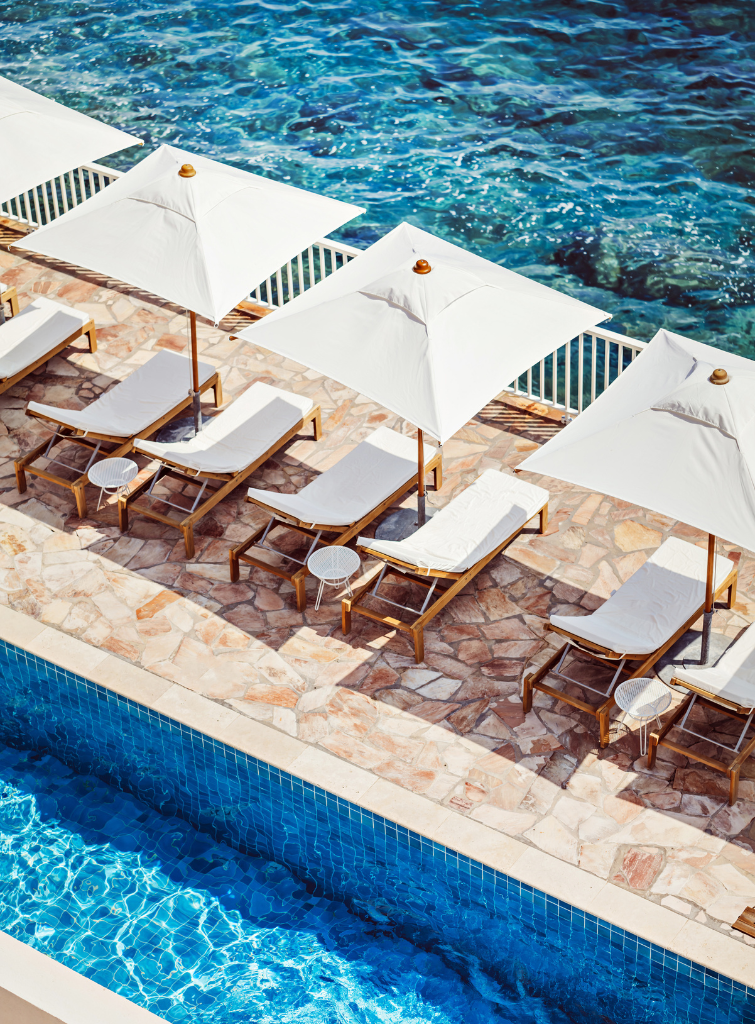 Nestled between the iconic locales of Cannes and Saint-Tropez, Saint-Raphaël presents a tapestry of stunning landscapes and shaded streets. 
Setting the stage for a memorable celebration requires a keen eye for detail and a touch of creativity. Louise Roe, the visionary founder of Sharland...
Bradley Agather is a creative consultant and stylist with an unerring knack for finding the sublime in the everyday. A former fashion editor, Bradley's discerning...