This store requires javascript to be enabled for some features to work correctly.
THE ART OF HOSTING
Hosting Thanksgiving With Condiment Claire
Plus THE recipe for her world-famous Cranberry Sauce

Condiment Claire takes over Flâneur magazine for all facets of Thanksgiving hosting. She shares her world-famous Cranberry Sauce and the perfect cheese platter to match. Take inspiration from her tableware edit and from her most delightful home traditions. You don't want to miss our first-ever Flâneur takeover.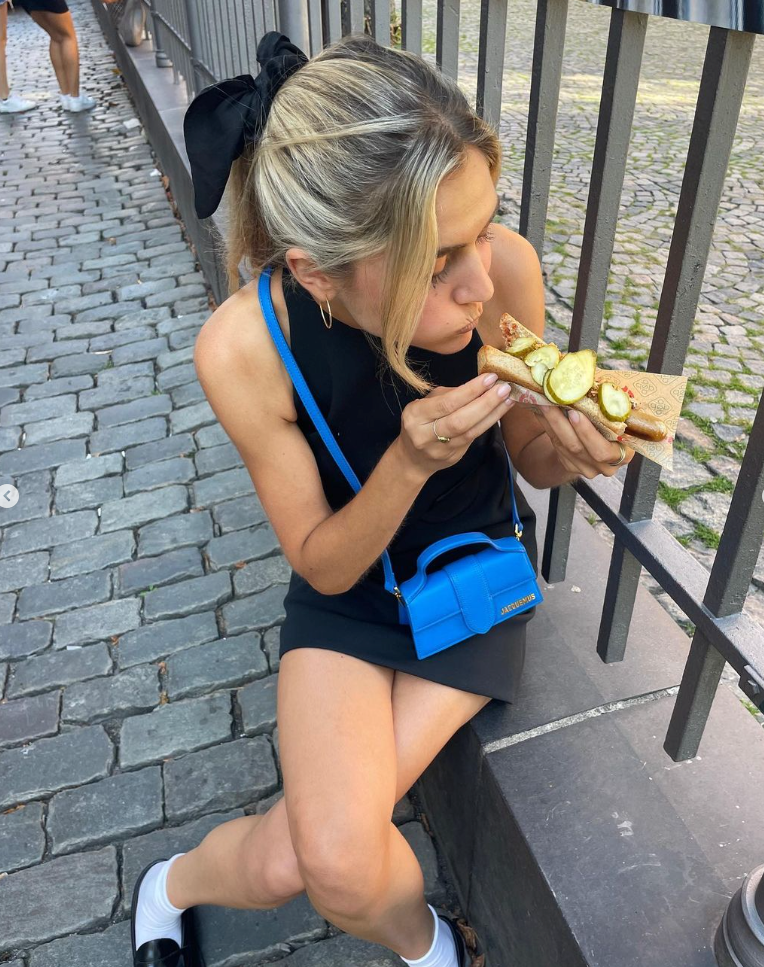 Meet Claire
Introducing the exceptional Claire Dinhut, renowned as Condiment Claire across social media! After making the move from L.A. to London during lockdown, Claire skyrocketed to TikTok stardom in the world of #foodtok. Her captivating content has made her the go-to authority for condiment aficionados, unveiling an array of unique discoveries and imaginative pairings from every corner of the globe.

We had the privilege of meeting Claire in London, and with her distinctive Franco-Greek-American background, we knew she was the absolute expert in unravelling the secrets of hosting an extraordinary Thanksgiving feast.

And now over to you Claire....
Hello, Flâneurs!

Thanksgiving has always been one of my favourite holidays. It's a day for feasting among friends and family, showing each other how much you care, playing fun games, watching football... Even though there is somewhat of a stereotypical Thanksgiving menu, every household will serve a different one depending on their background.

My American side of the family is Greek so we will always serve spanakopita, dolmades, and some sort of bake (pastitsio, moussaka…) alongside the traditional turkey and gravy situation on the table. Let's just say tzatziki works wonders to brighten up a classic plate of mashed potatoes and gravy. It's a day filled with lots of loud voices, broken plates, spilled wine and so so so much laughter.
Regardless of where Claire is in the world, planning a Thanksgiving for her loved ones is always a priority. While it may not always be traditional, there is always one condiment on the table that binds all dishes together. We are so excited that Claire has shared her famous cranberry sauce recipe..a staple on any Thanksgiving table.
Thanksgiving Recipe
The Perfect Cranberry Sauce
Since condiment is literally a part of my name now, I had to share my cranberry sauce recipe. It is the one item that stays on the table ALL night for my family (which means I always make EXTRA)! We eat it with dinner, the cheese course, the next morning with some bread and butter and of course, with almighty leftovers.


I like serving two different cranberry sauces each Thanksgiving: one standard sauce, and one surprising one. It's always a fun (and delicious) topic of conversation. Make it spicy, warming, and tangy, it's up to you!
Gather your pots and pans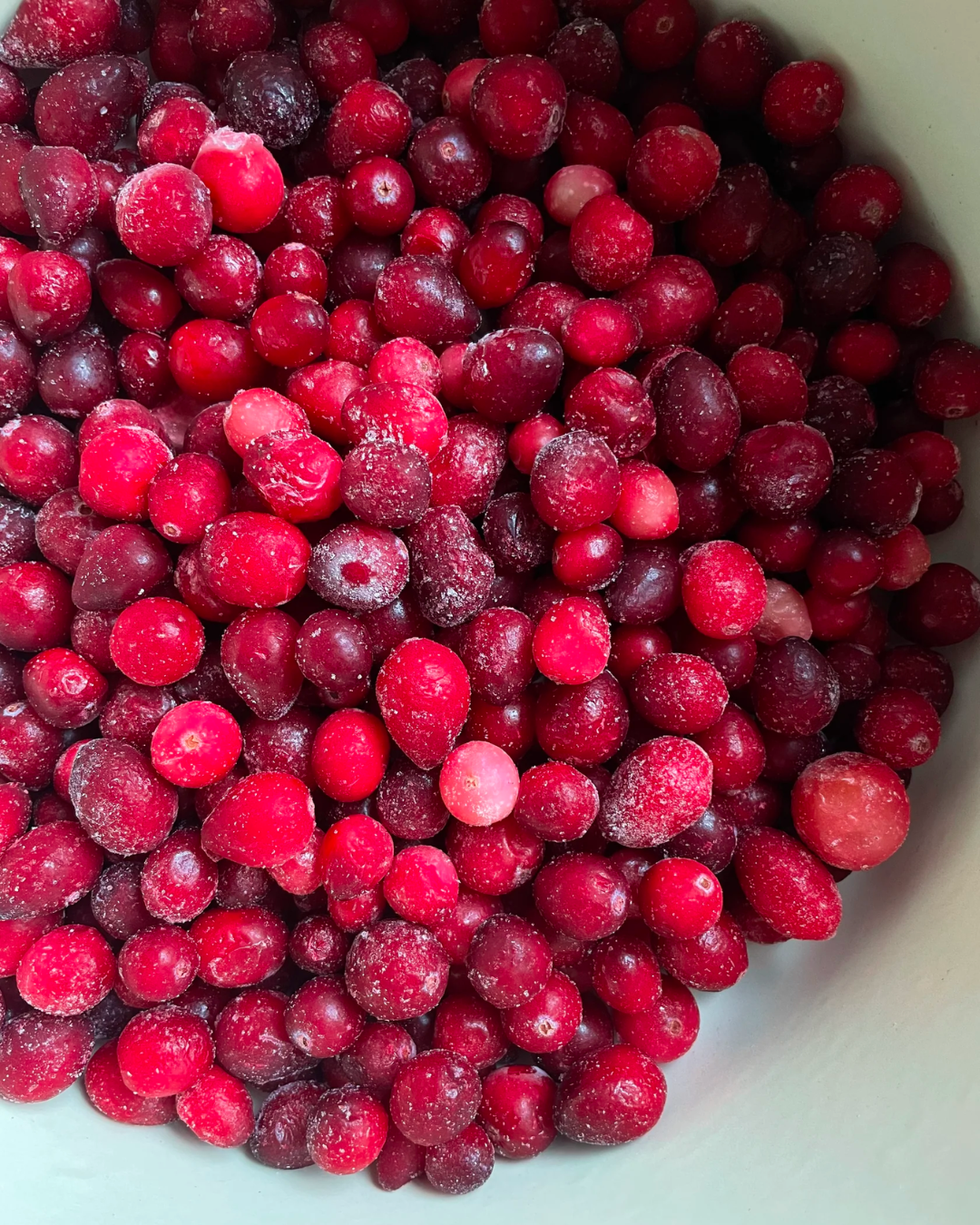 Ingredients

500g frozen cranberries - you can also use fresh but I find frozen are easier to find

240g caster sugar - you can also do 50/50 with maple syrup

240ml - water

1 lemon + 2 zest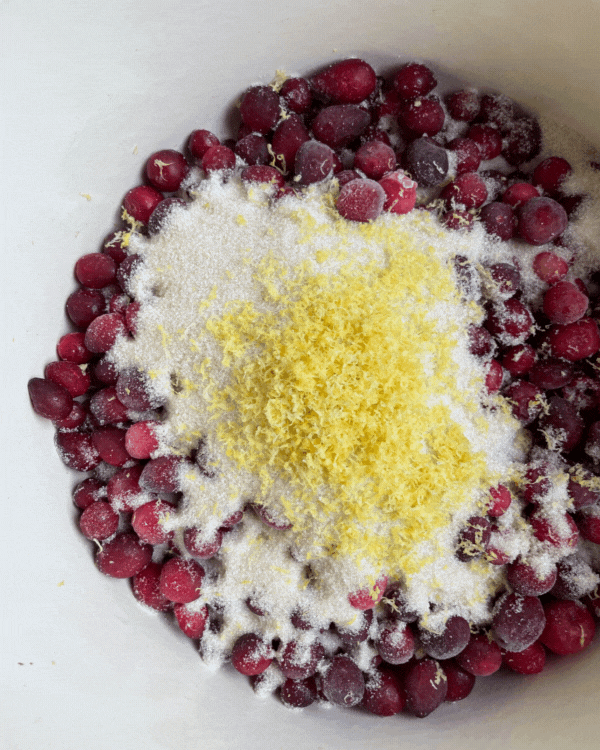 Step 1

Place cranberries, juice of 1 lemon, the zest of 2 lemons, caster sugar and water in a big pot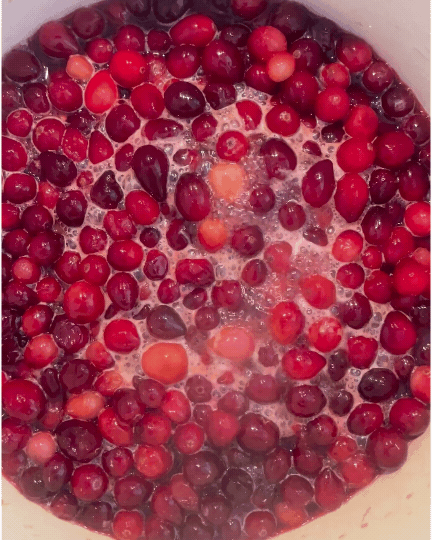 STEP 2

Bring all ingredients to a boil - don't be scared, the cranberries will begin to pop!  Cook until desired consistency is reached, around 10 minutes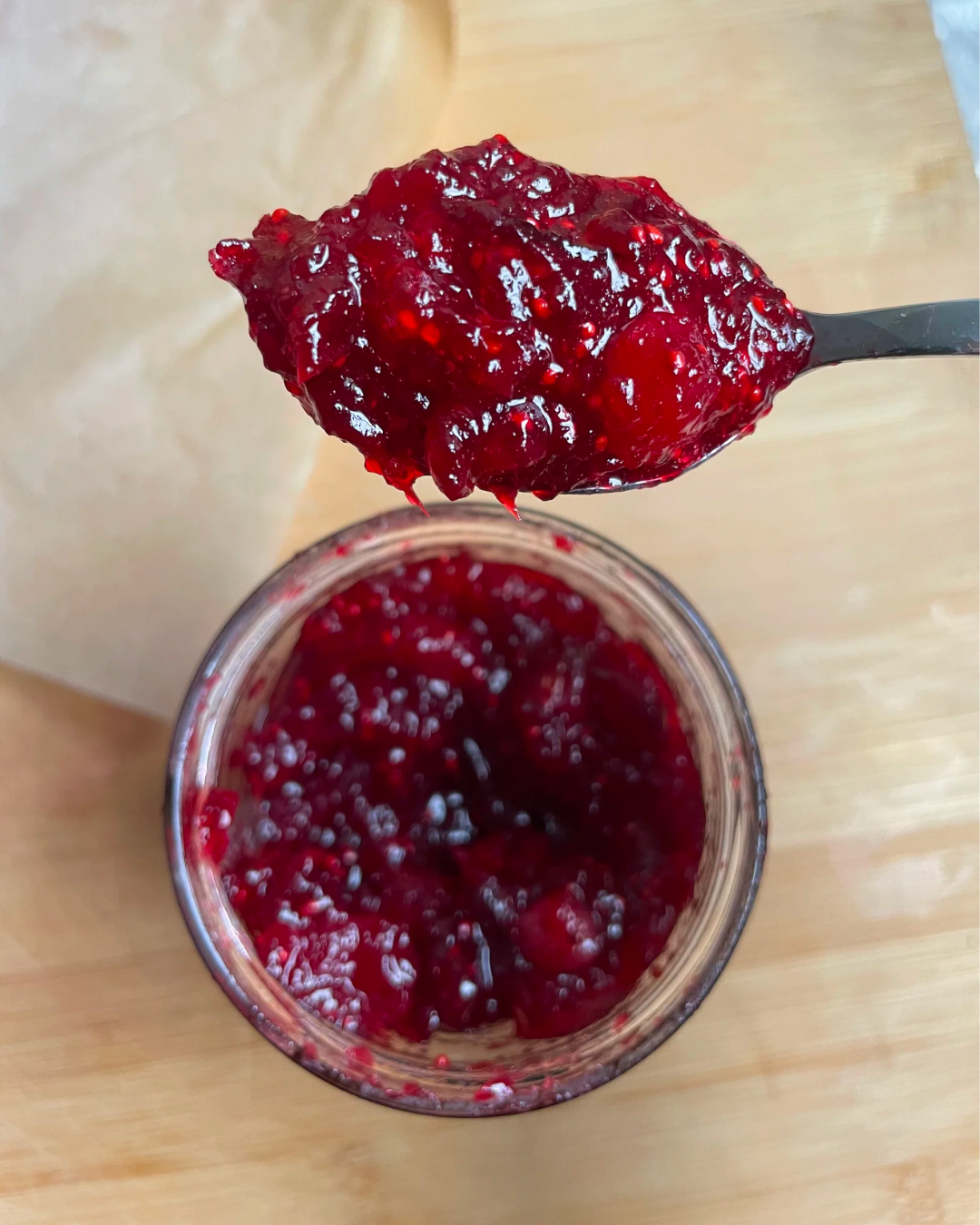 STEP 3

Serve immediately or store in sterilised jars

ENJOY!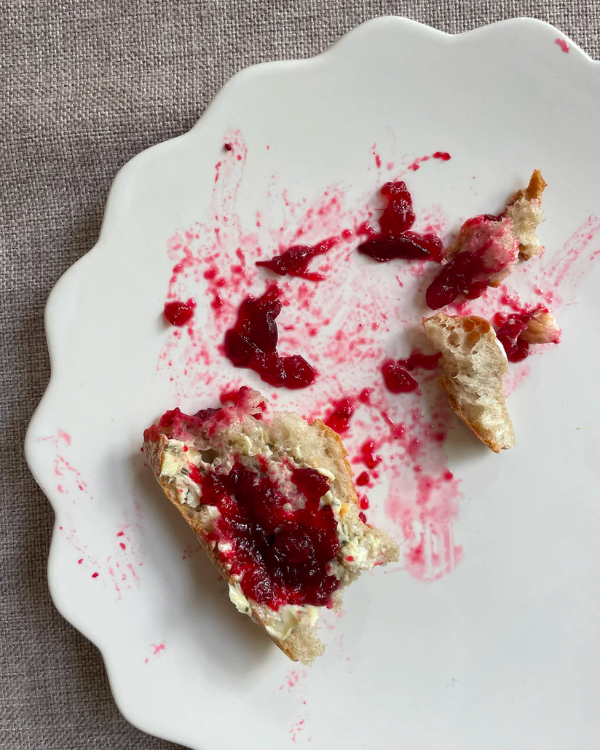 Add a little spice
Vanilla extract or bean, Cinnamon stick, Rosemary, Cinnamon, Lemon, Orange or Mandarine zest, & Chili flakes - toast them before if you want a deeper, smokier flavor. I also like that they are red for color consistency. 

No cranberries to be found?? Last year I used frozen red currants from my backyard. If you want to get really funky, you can also use Hawthorne berries or cloudberries, just make sure to add in some extra lemon for the acidic tang. 
Claire's cranberry sauce pairs perfectly with an oh-so-French cheese platter. She introduces us to her favourite combinations and explains the reason behind this pairing choice.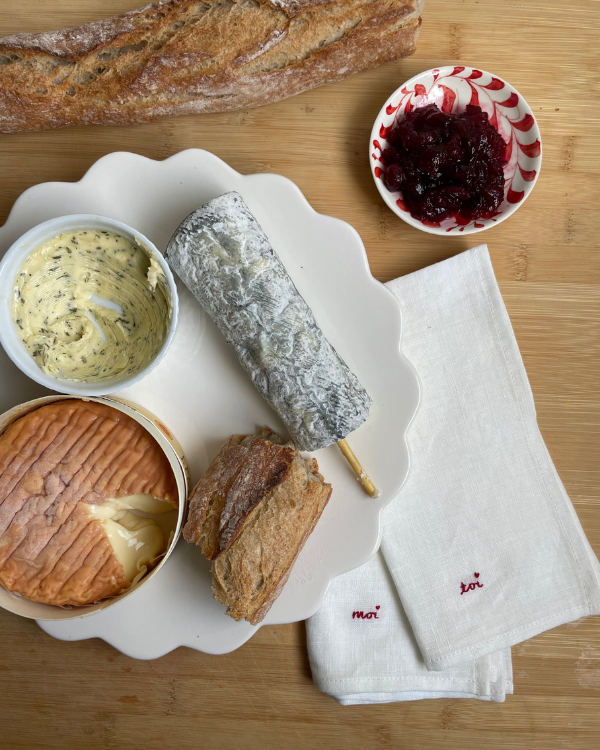 Goat Cheese

My family always opts for a Sainte Maure, it's a log-shaped goat cheese covered in ash (and a bit of mold) from my region in France. It's nice and soft but punchy enough to hold its own against the acidic sauce.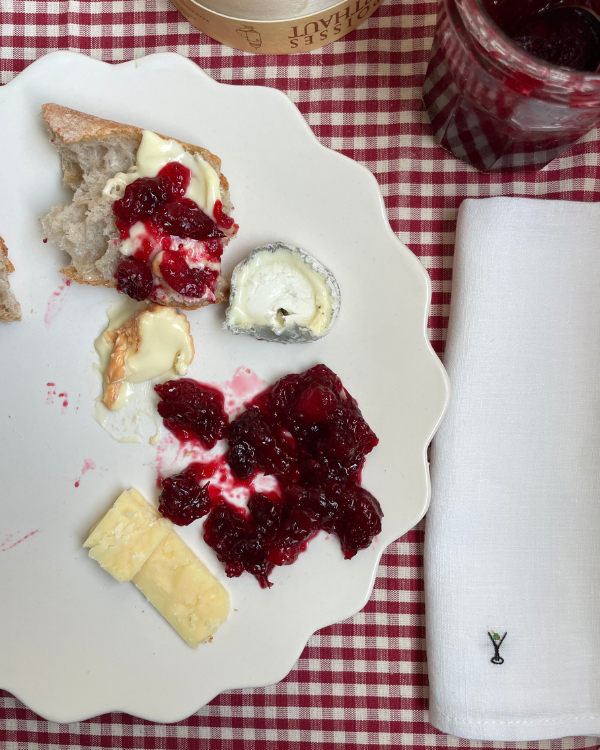 Cheddar

I always like to pair food and drink according to terroir. In the US most cranberries come from the state of Wisconsin which also happens to be the state responsible for over 50% of all cheddar cheese in the US! Moreover, cranberries also grow in certain regions of the UK which produce sharp cheddar as well. We love an unexpected duo! I prefer a sharp, white cheddar when pairing with this sauce as you hit bright, sour and sweet notes from the cranberries and salty, creamy ones from the cheese.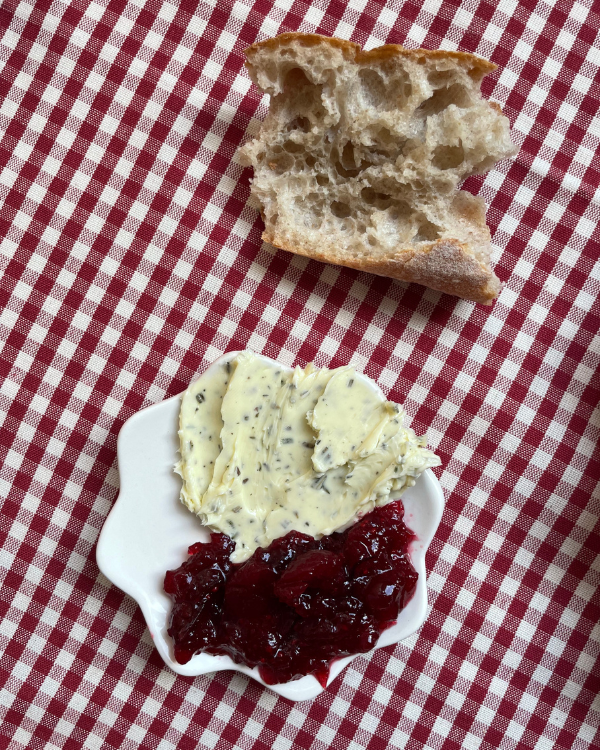 Époisses

Last but not least, is this stinky addition. Epoisses is a soft cow's milk cheese with a rind washed in Marc de Bourgogne, a brandy. It has an incredibly earthy, mushroom-like taste that leaves you with a spicy kick in the back of your throat. If you're not into this level of pungency, or can't find this cheese, look for a Camembert as it will provide you with similar aromas but a bit less of a punch. 
Claire's Top 3 Traditions for Thanksgiving
As a Franco-Greek American Claire has lots of traditions to pick from. 
Whether she is at her family's mill in France (And if you haven't discovered it yet we invite you to on TikTok) or travelling in search of the tastiest condiments, here are her three favourite Thanksgiving hosting traditions.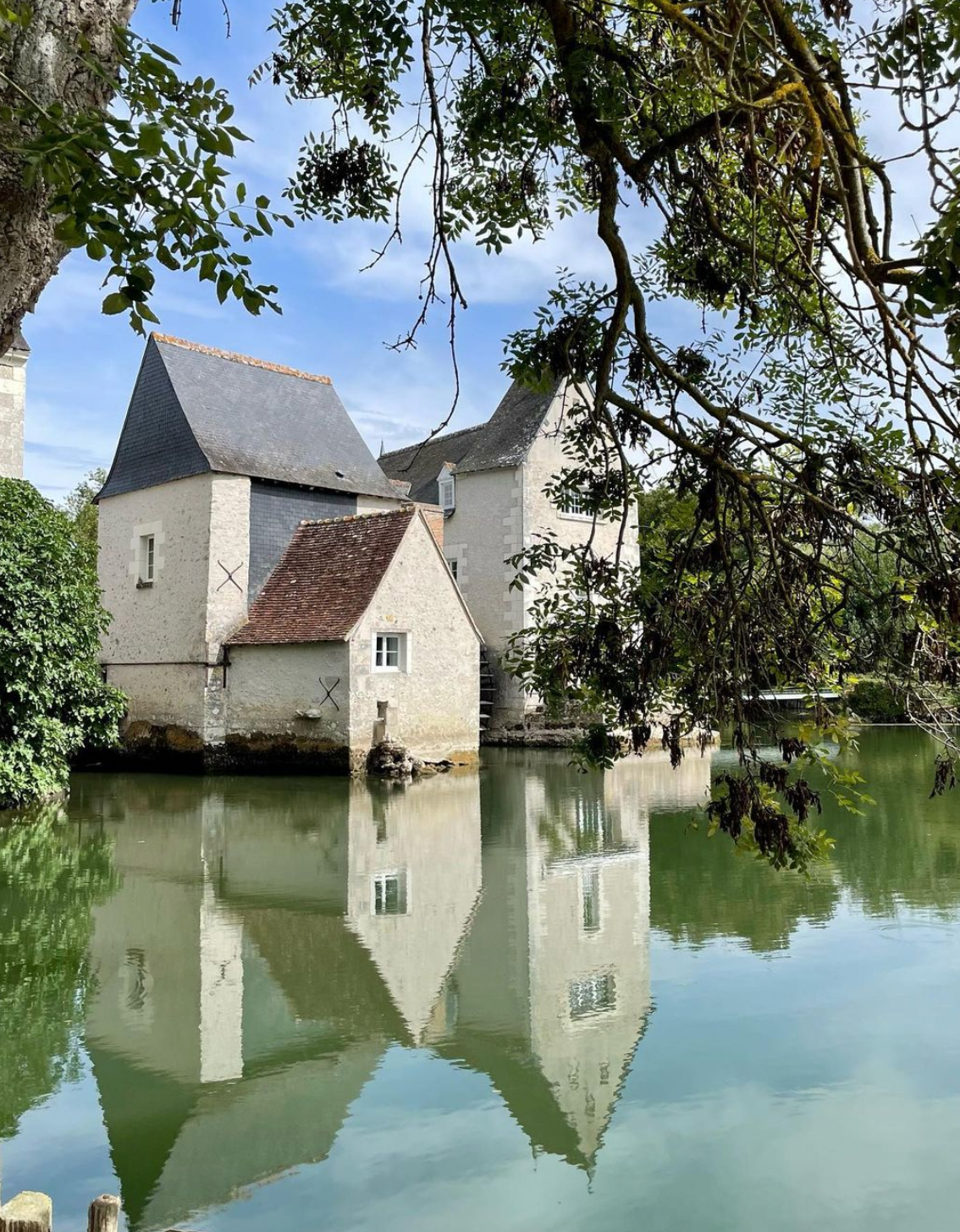 1. Thanksgiving meal from the garden
I am half French, so I have spent some Thanksgiving celebrations on the other side of the ocean. For these, we spend the day at my family's home in the French countryside where we grow a lot of our produce.

This simply means that the full Thanksgiving meal is dictated by what our garden chose to gift us that year.

Although it may not be totally traditional, it certainly keeps us on our toes! Last year, we replaced pumpkin with koginut squash pie and cranberry with red currant sauce. Both A+ swaps that I may have to repeat this year… TBD, I'll see what my garden thinks about this later in November!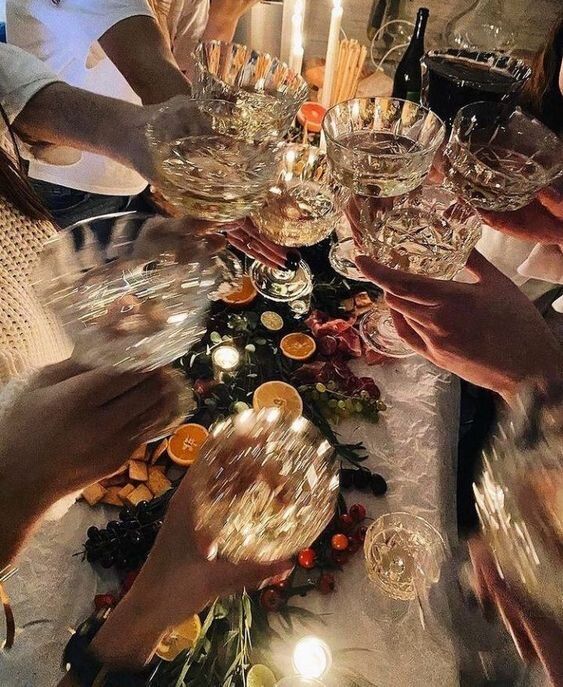 2. Friendsgiving all year round
My favourite Thanksgiving may be Friendsgiving. It doesn't need to be on that last Thursday in November, it can really be whenever you and your loved ones are free.

Friends are chosen family, and the whole point behind this holiday is including anyone and everyone that means something to you. If your friends can't join your Thanksgiving, plan a Friendsgiving and make sure you can continue the jolly celebrations. Friendsgiving are for potlucks!

Last year, I had an "international Friendsgiving" where all of my friends had to bring a dish from their respective culture, it didn't have to match a standard Thanksgiving menu whatsoever. We had traditional English fish n chips, Nigerian rice and peas, Greek spanakopita, American green bean casserole, Cuban beans, Swedish herring… the list goes ON."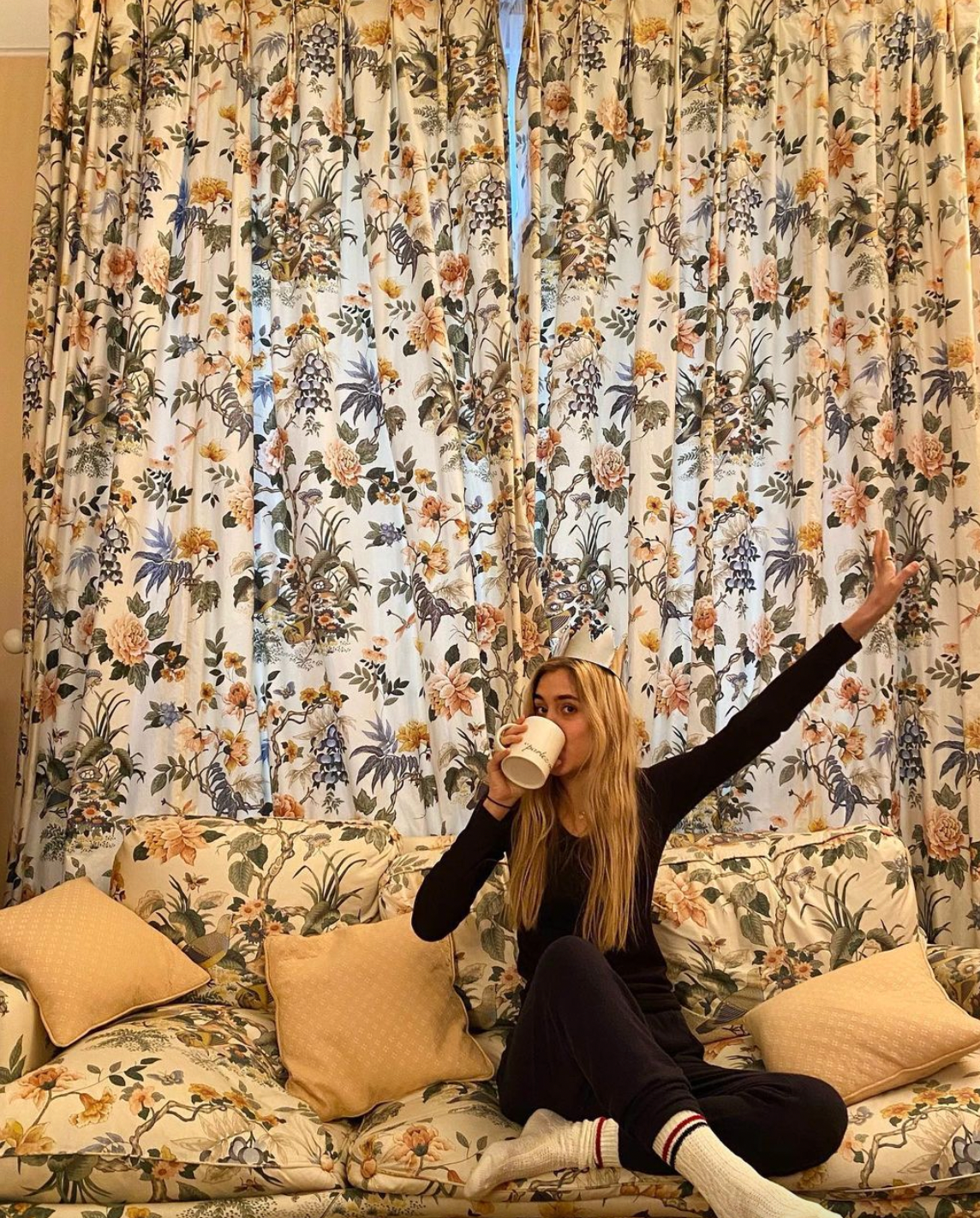 3. Entertainment is key
A tradition I brought from Los Angeles to both London and France was the game we played yearly. I wish it had a name but it's simply pure CHAOS. All you need are noise-cancelling headphones. After our feast, we roll ourselves onto the couches, the floor, maybe onto cushions (wherever we can unbutton our pants and feel comfortable) and sit in a circle.

Then, one person puts on noise-cancelling headphones, blasts music and the madness begins. The person across from them then has to say a simple sentence such as "the cat is on the roof". The headphone wearer clearly can't hear a thing but has to guess the sentence… Let's just say, this game could start wars.

I have rarely laughed so hard in my life, it's the game that keeps on giving. My family and I still reminisce on past Thanksgiving games. We always invite non-family members every year, the more the merrier, and these friends always begin the game confused by us all and end it by bringing the tradition to their own loved ones.
IN THE DETAILS
The Condiment Claire Edit
Take your Thanksgiving feast to a new level with Claire's carefully curated selection of tableware. When curating this collection, Claire fell in love with our dinnerware - "sleek and simple yet playful".
BLOG
Latest articles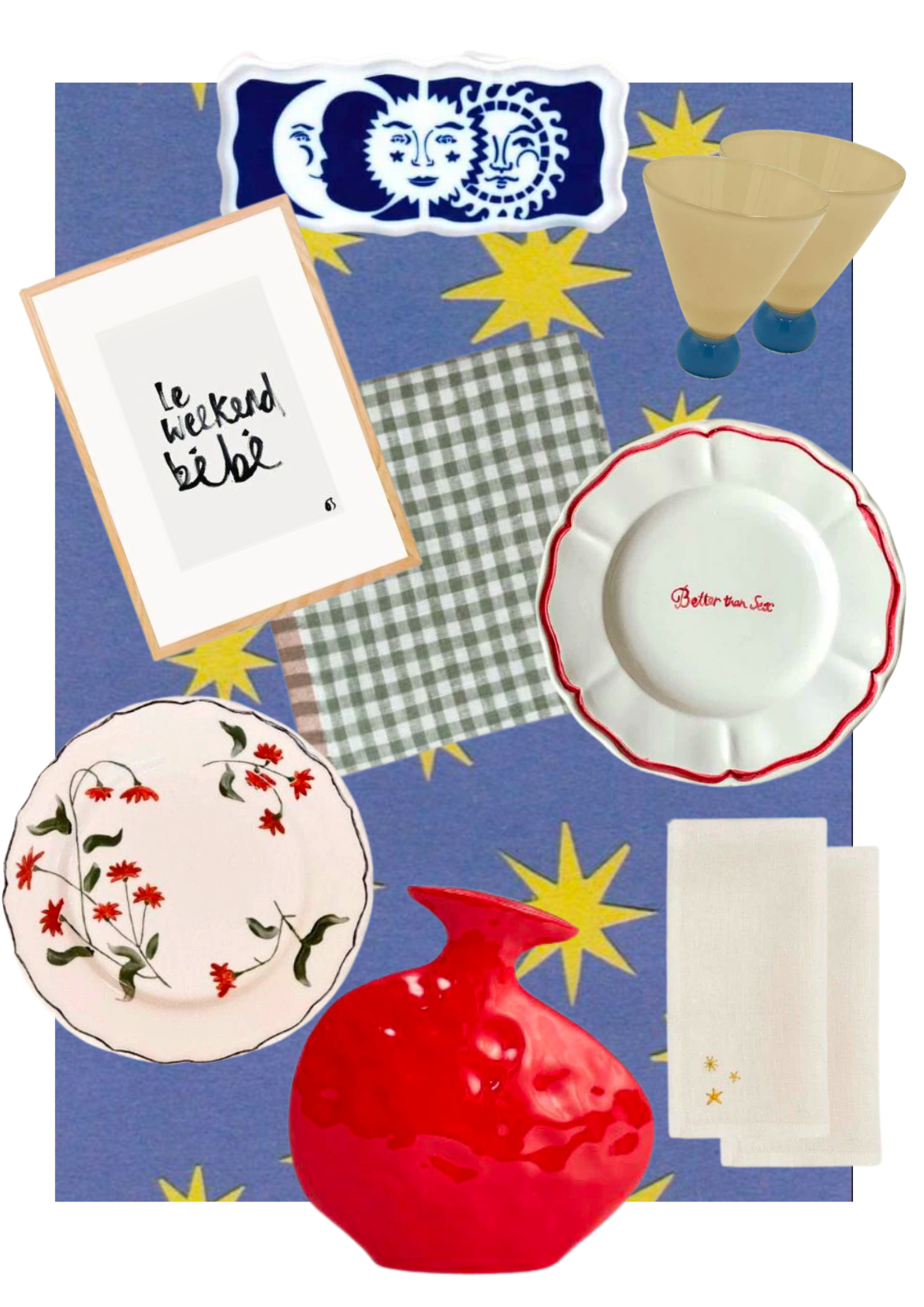 The season for gifting is upon us and we have pulled together the best gifting edit for your loved ones. Regardless of taste, we have...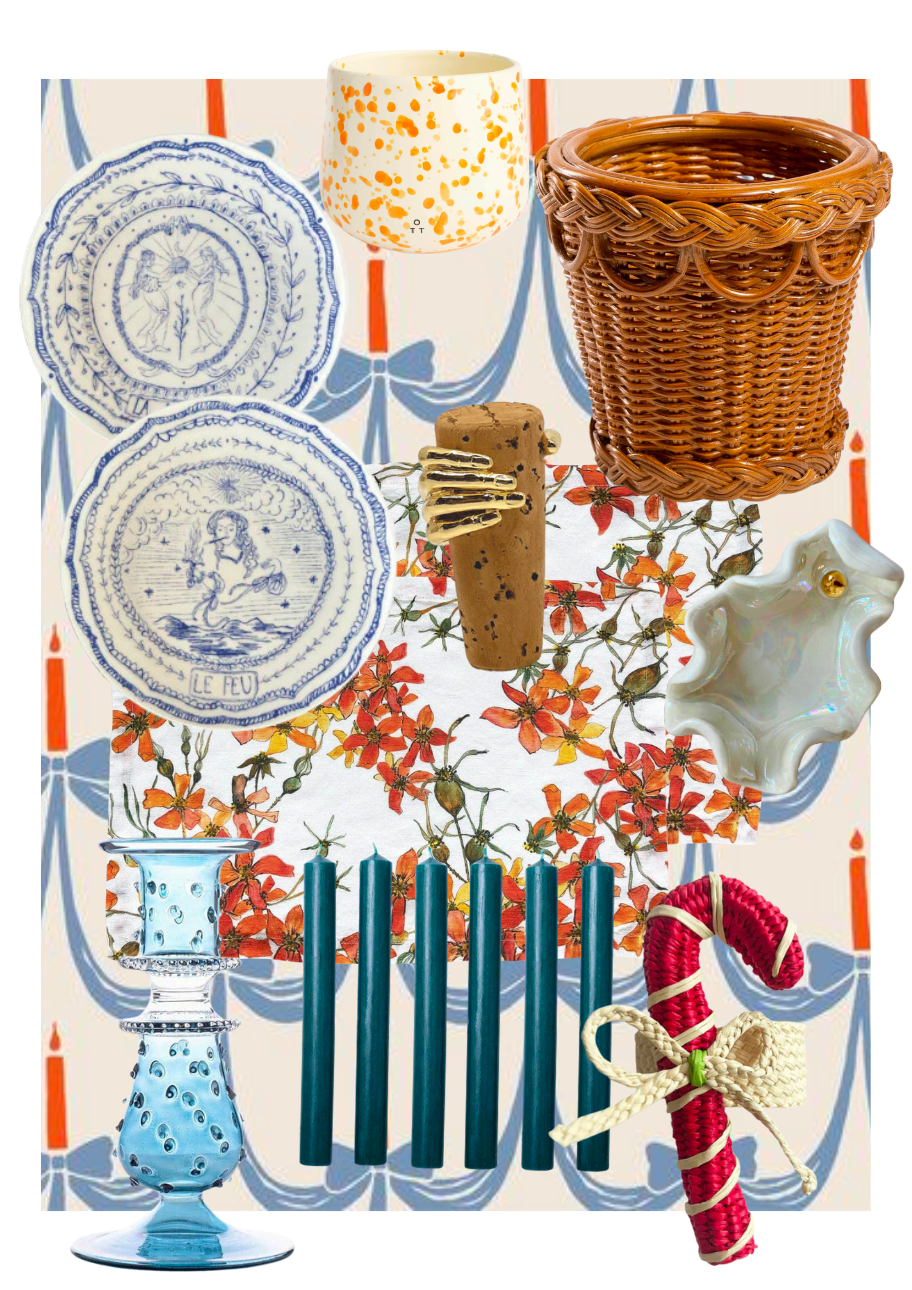 Step into a world of festive delight with our Ultimate Festive Gift Guide! Whether you're shopping for someone enchanted by the magic of Christmas, a...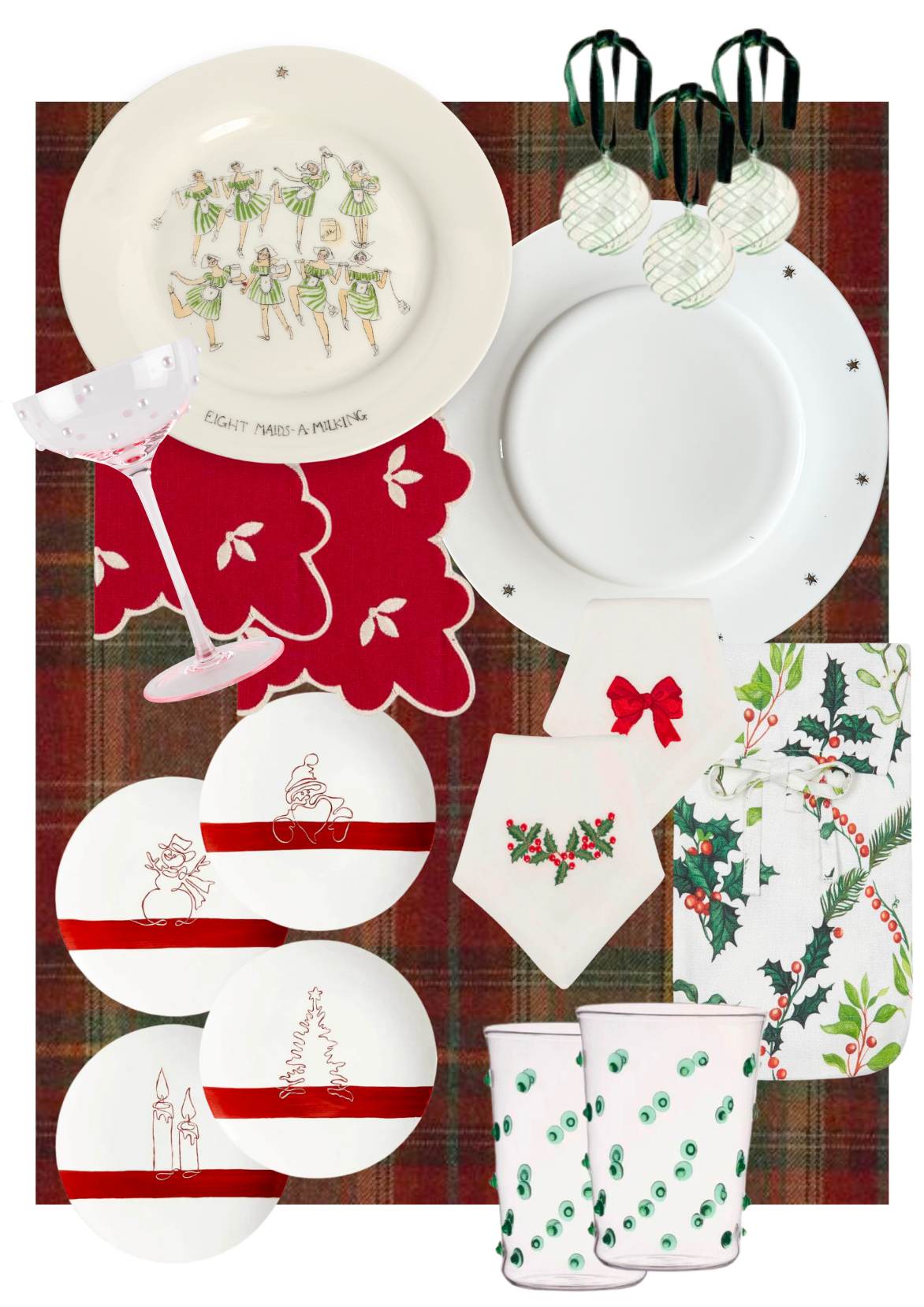 For those who LOVE Christmas. A selection of ceramics, baubles, crackers and so much more. There is something for everybody.