This store requires javascript to be enabled for some features to work correctly.
Destinations
Palazzo Daniele, a 19th-century dream
Welcome to Palazzo Daniele, a hidden gem tucked away in the charming village of Gagliano del Capo, Italy. Here, the energy of Puglia and its jaw-dropping views come alive. Carefully curated by Francesco Petrucci, the palazzo mirrors a family legacy rooted in 1861. Step into an experience where history meshes with today, fostering a vibrant interplay of art and design.
Palazzo Daniele is a hospitality project born from the vision of Italian entrepreneur Gabriele Salini, and Francesco Petrucci, the last descendent of Daniele's family and owner of Palazzo Daniele. A 9-suite artist guest house, and aristocratic palazzo built in 1861.

Palazzo Daniele is in the heart of Gagliano del Capo, a coastal comune in southern Puglia. Grazing the beautiful Puglia cliffs, the Palazzo is minutes away from beautiful sea-fronts and refreshing beaches.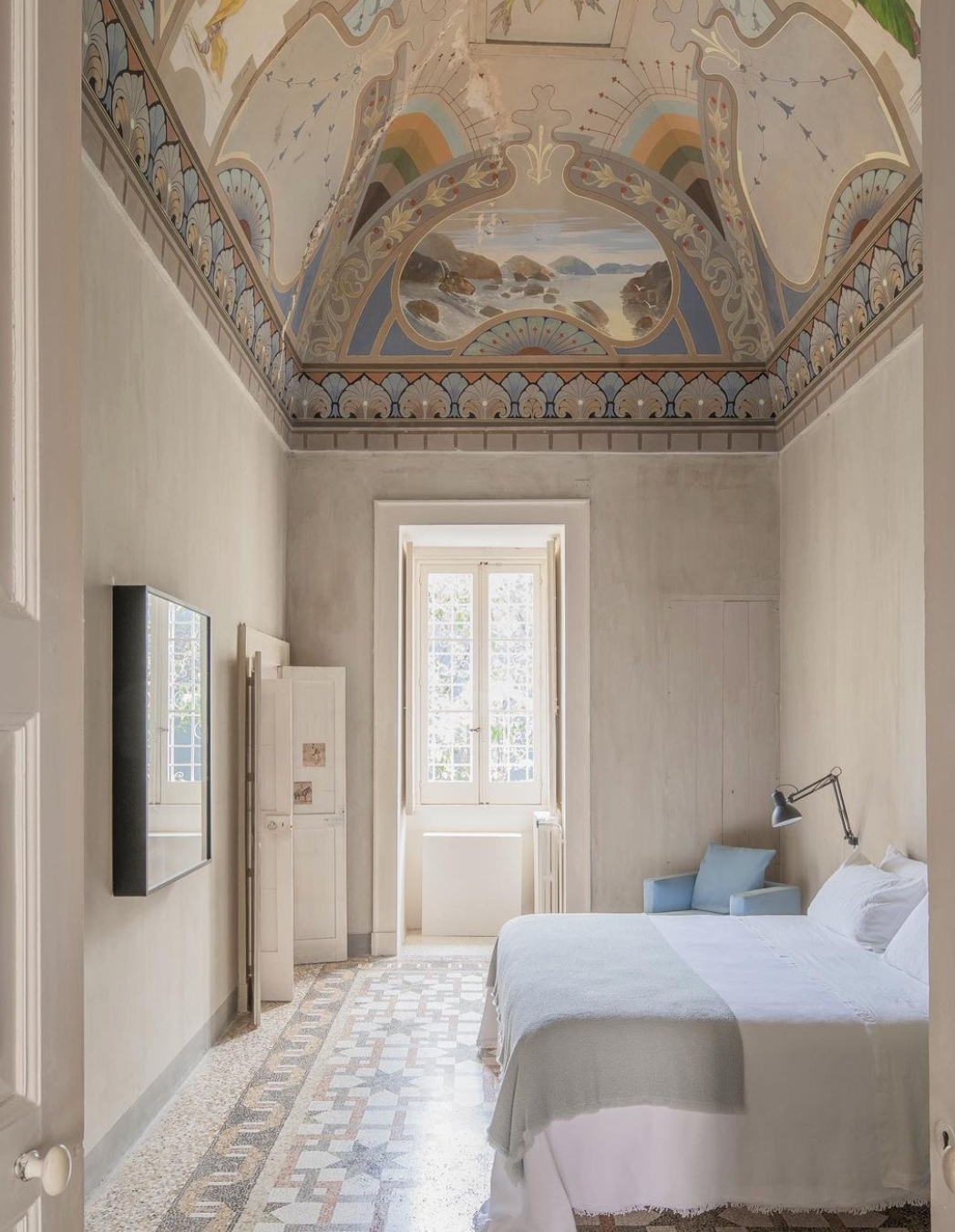 Take a Tour
The perfect stay
The rooms and suites have been decked out by Milan designers Ludovica + Roberto Palomba and they've hit the sweet spot between being really impressive and super simple. They've gone for muted colours on the roughed-up walls to create a chill, quiet atmosphere. You won't find any TVs or minibars here, the aim is all about peace and low-key elegance. A lot of the rooms still have their original frescoed ceilings and floors from the 19th-century, which adds a cool bit of history and charm.

The bathrooms have a clean, simple design, with walk-in showers, and if you're after a real treat, check out the Royal Junior Suite. It's got an amazing rain shower that drops from a high ceiling into a beautiful old basin.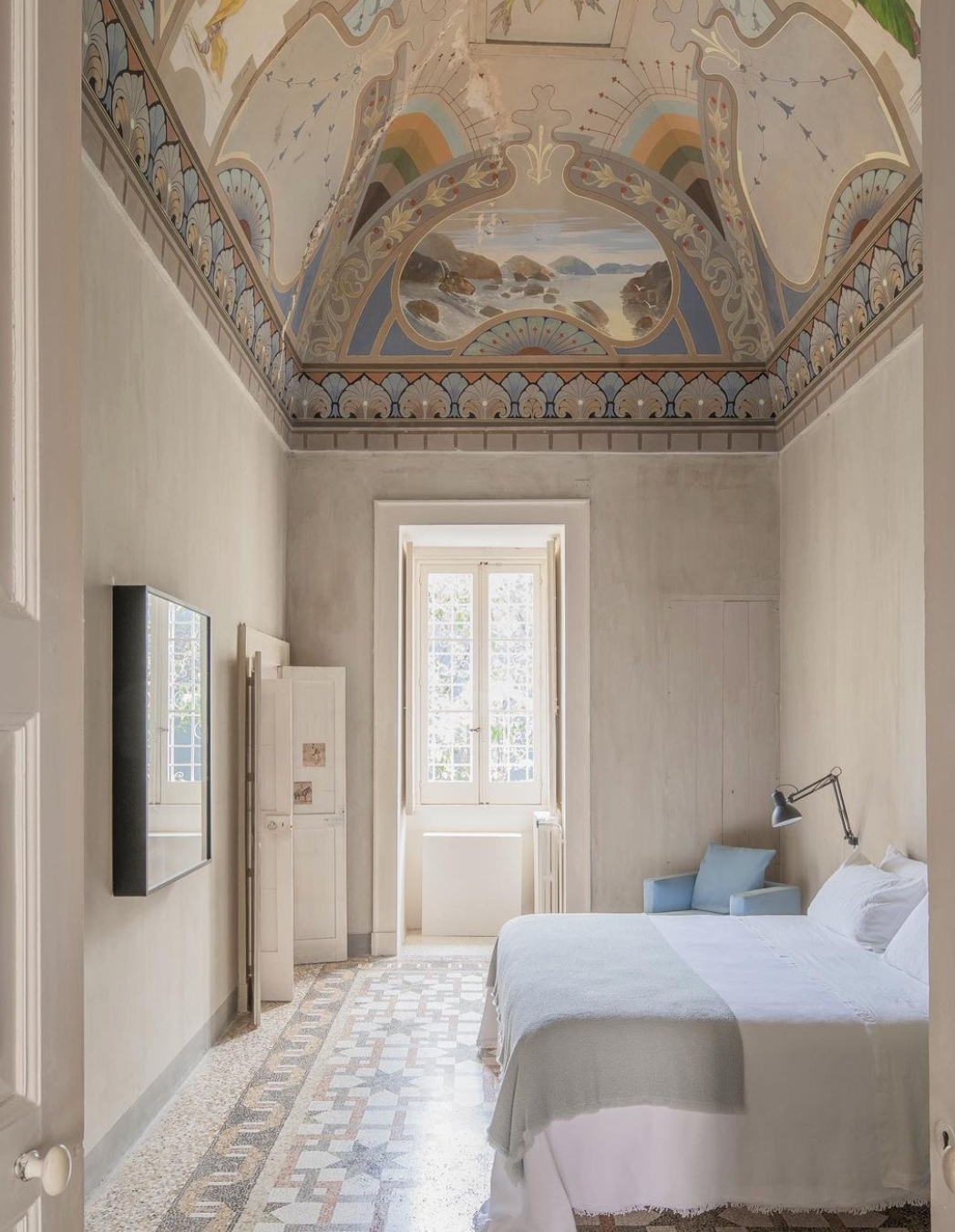 Design
The fusion of art and function
Built in the 1860s, this beautiful house revolves around a breathtaking courtyard, with its own gardens and orangery. A key feature as the palazzo focuses on local produce, handled by four female chefs in their kitchen.

You'll be blown away by the spacious lounges with high ceilings, which are great for cooling down in the summer. The original mosaic floors, old-school frescoes, and Art Nouveau wall paintings make a killer backdrop for all the modern art and installations.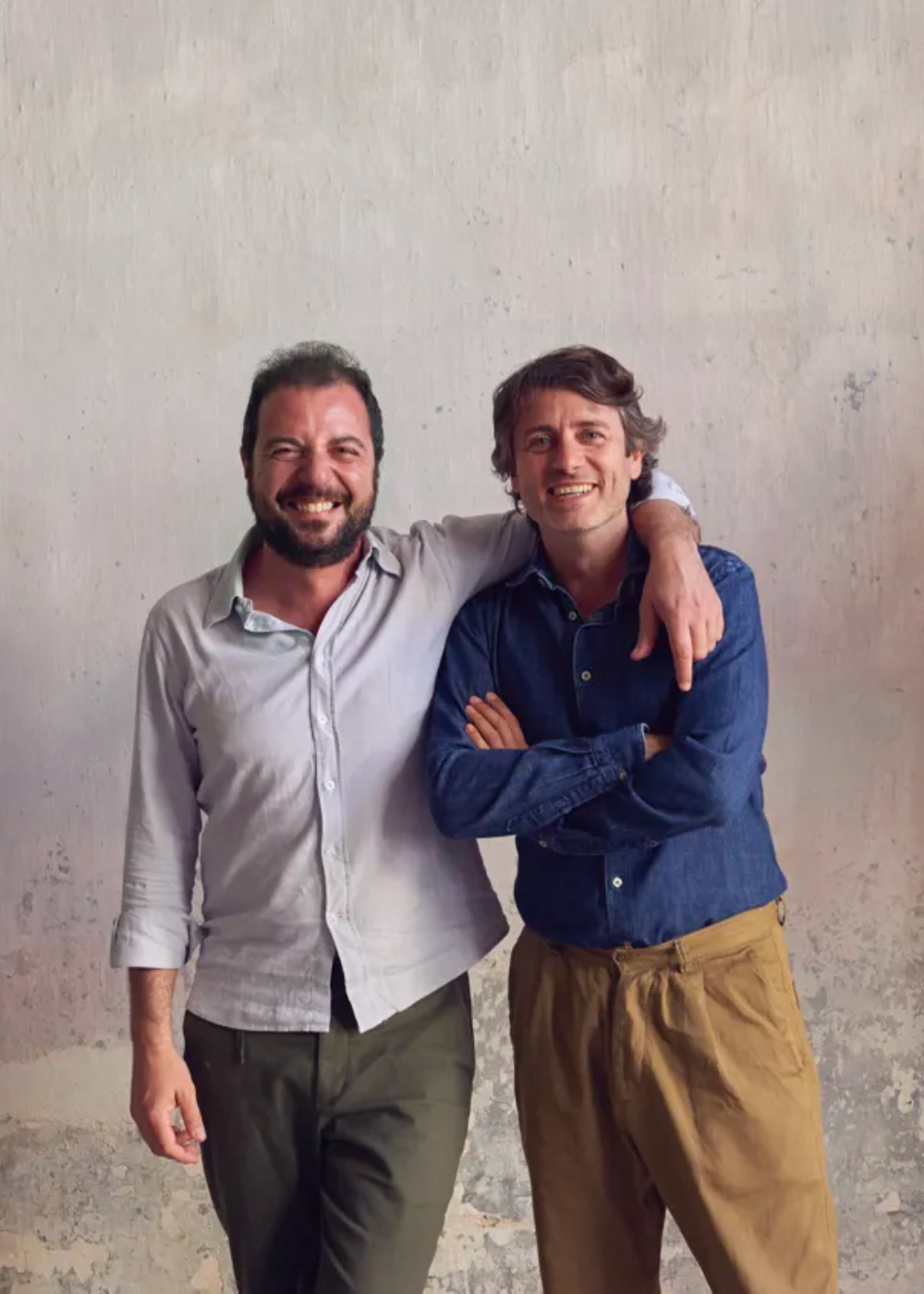 Meet the hosts
Gabriele Salini and Francesco Petrucci
Palazzo Daniele is a hospitality project born by the combination of the vision of Italian entrepreneur Gabriele Salini, and Francesco Petrucci, the last descendent of Daniele's family and owner of Palazzo Daniele.

The passions shared between the two friends and the similarities between their "homes" made this new story possible. With a twist on art, by creating Capo D'Arte (a non-profit contemporary art organisation), they established a new ground for the Palazzo.
Flâneur favourites
Details we loved
In the summer, the outdoor pool hosts a tapas bar, the orangery has music, and the open-air courtyard has a fire pit. The food and cuisine is done by Chef Donata, who handpicks fresh products from local farmers, serving breakfast, tapas and dinner on demand. Kaffeehaus also hosts special dinners for two.

Lastly, they have an Orecchiette cooking class, tours in vintage 1960s-1970s cars, and angling with local fishermen.
More details we're obsessed with
|

The newly opened shop at the hotel makes you want to bring everything home, the result of a collaboration between the renowned Cicileu. Ceramics, intricately woven textiles, statement jewellery, and avant-garde sculptures. The furniture is a curation of elegant and versatile pieces, such as the rattan chairs. In the Art collection, Simon d'Exea's light box is a beautiful contemporary installation that engages the viewers on both a visual and intellectual level.

|
BLOG
Latest articles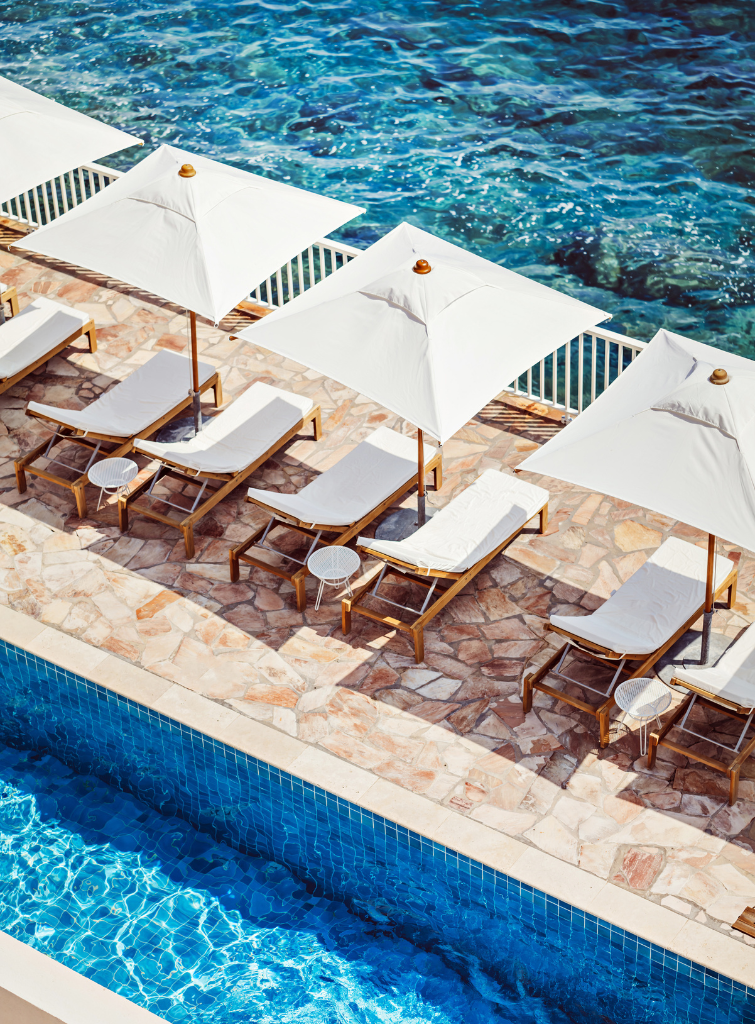 Nestled between the iconic locales of Cannes and Saint-Tropez, Saint-Raphaël presents a tapestry of stunning landscapes and shaded streets. 
Setting the stage for a memorable celebration requires a keen eye for detail and a touch of creativity. Louise Roe, the visionary founder of Sharland...
Bradley Agather is a creative consultant and stylist with an unerring knack for finding the sublime in the everyday. A former fashion editor, Bradley's discerning...