This store requires javascript to be enabled for some features to work correctly.
HOW TO
You've been Served: Charlie Hibbert, Head Chef at Thyme does Thanksgiving
Thyme is a place for all seasons, but when I wonder into the veg garden as the autumn leaves are changing, there's something very special about this time of year.  For the kitchen, we're harvesting pumpkin, squash, Jerusalem artichoke, yacón, rainbow chard, celery, beetroot and woody herbs, so there's a riot of oranges, yellows, purples and greens for our Ox Barn plates; the trees are competing with their burned oranges, vivid yellows and ox blood reds.  It's not too cold, sometimes raining, but always reminding me about nature and its importance in the grand scheme of things.  It's truly awesome.  This dish brings together some of the best things about the season.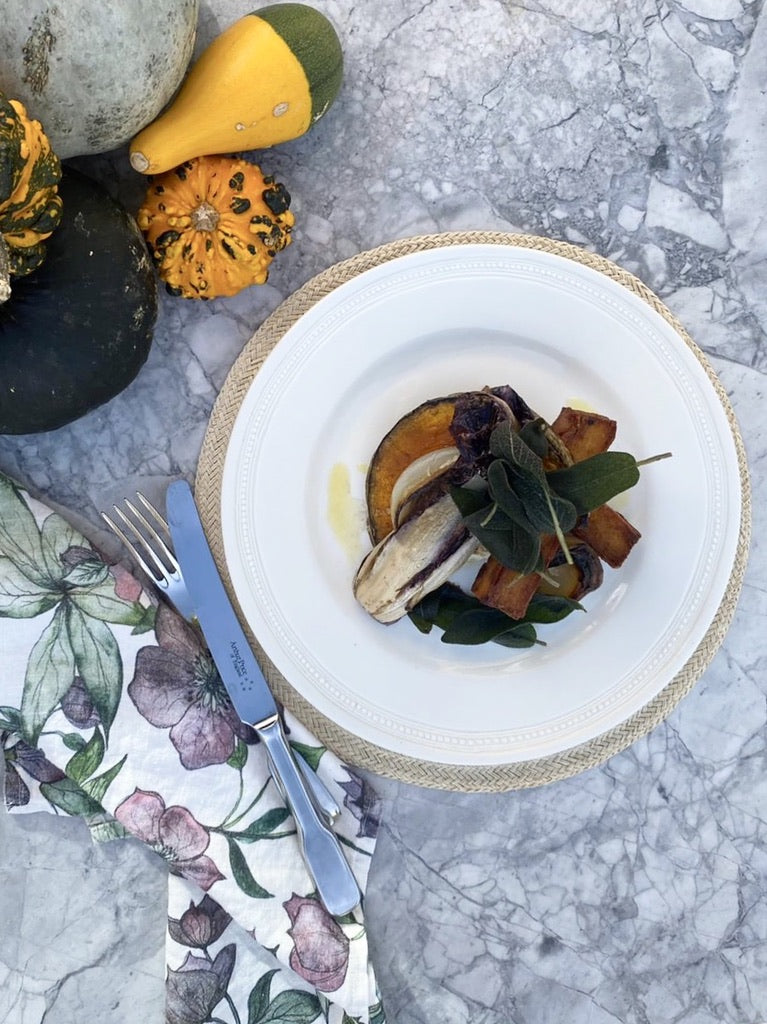 Serves 6
Pavé, goat's curd, pumpkin, roast onion, radicchio and sage
For the pavé
6 large chipping potatoes like King Edward, peeled
600ml vegetable oil
1 large sprig thyme (for 2 tbsp), chopped
4 cloves of garlic, peeled & grated
Maldon salt flakes & pepper
For the rest
1 pumpkin – onion squash or crown prince
3 medium red onions
1 head of radicchio (or red chicory if you can't find radicchio)
Pinch of chilli flakes
1 bunch of sage
6 tbsp goat's curd
Vegetable oil for brushing and frying
Preheat the oven to 160°C (normal) | 140°C (fan) | gas mark 3.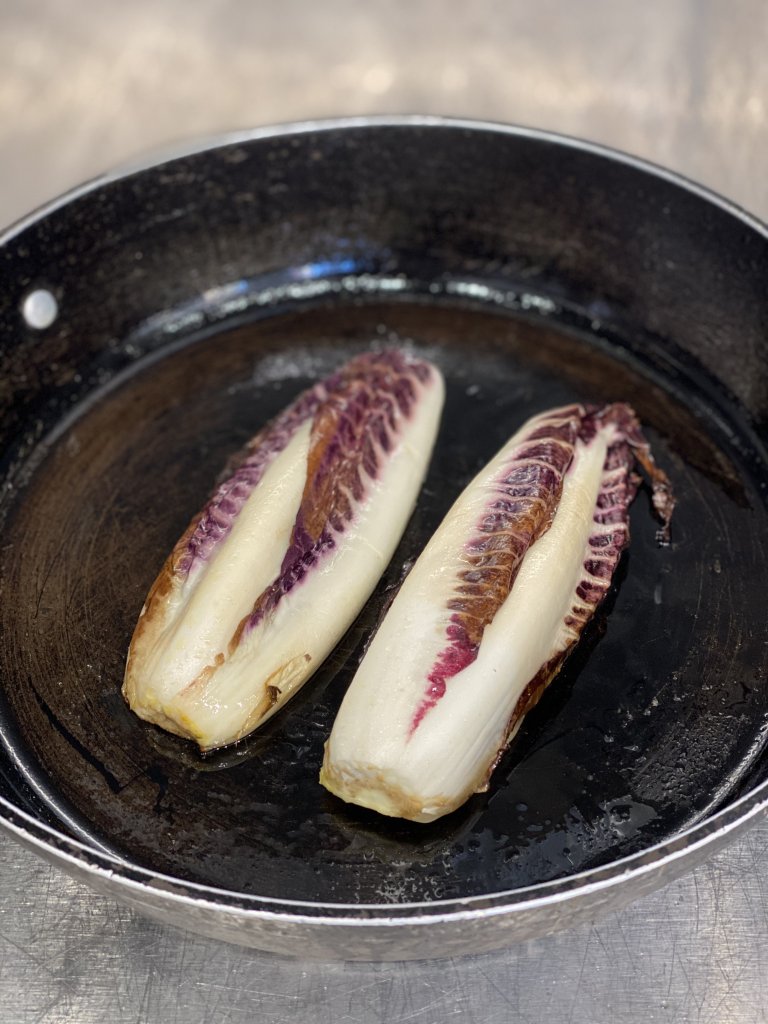 Slice the potatoes about 0.25cm thick.  Put the slices into a large bowl, cover with the oil and add the thyme and grated garlic.  Liberally season with salt and pepper, and carefully mix everything together.  Leave for 5 minutes to allow the potato to soften.  Take a baking tray, ideally something at least 10cm deep, and line it with parchment.  Gently layer the potatoes (like you're making a dauphinoise), carefully overlapping each potato slice, to ensure a rigid lattice-like structure.  Cover with a sheet of baking paper and cook it for 35 minutes until it's soft (there should be no resistance when you pierce it with a knife).  Remove the pavé from the oven and put a weight on top of it – another roasting tray – or anything else that's nice and heavy.  Allow it to cool completely, ideally leave it overnight.
Preheat the oven to 200°C (normal) | 180°C (fan) | gas mark 6.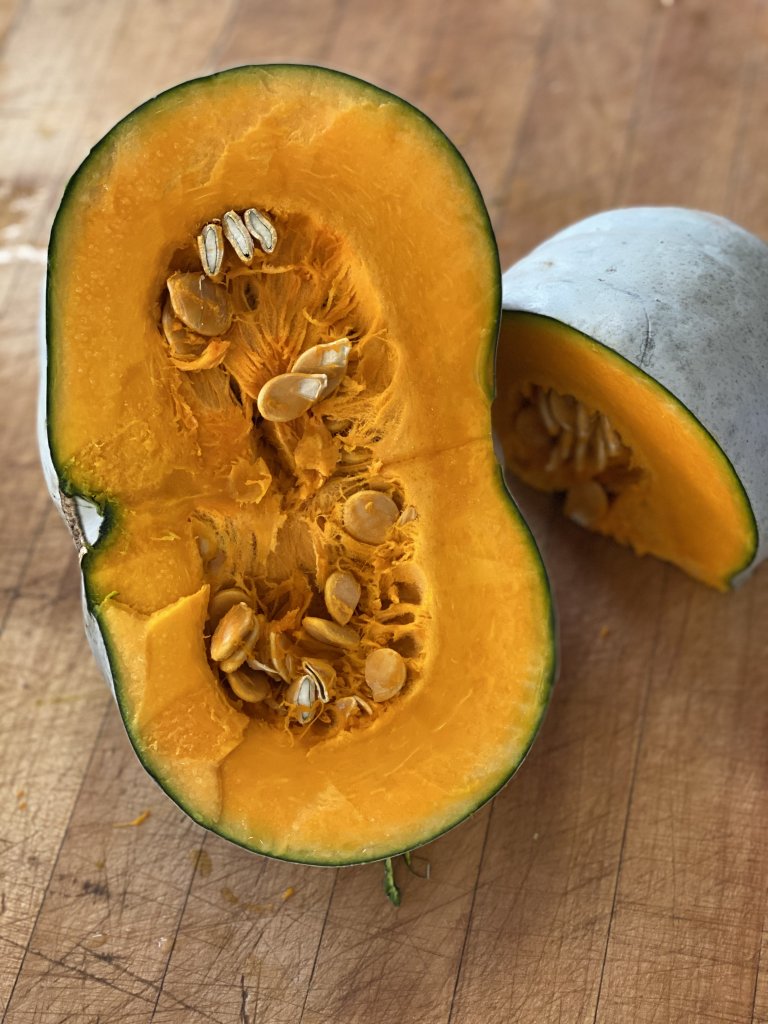 Cut the onions into halves, skin still on.  Slice the pumpkin (or squash) in half – skin on, scoop out and discard the seeds, then placing it cut side down on the chopping board, cut into 6 half-moons for each half pumpkin.  Put the vegetables onto a roasting tray, drizzle over a little oil, season with salt, pepper and a pinch of chilli flakes, mix well and cook for 10 minutes.  Turn the vegetables over and cook for a further 10 minutes.  The pumpkin and onion should be soft to the touch of a sharp knife, so if not quite, cook for a little longer.  Once cooked, remove the onion skins.  Cut the radicchio head into 6 pieces, brush with a little oil and grill so that it's gently charred on both sides.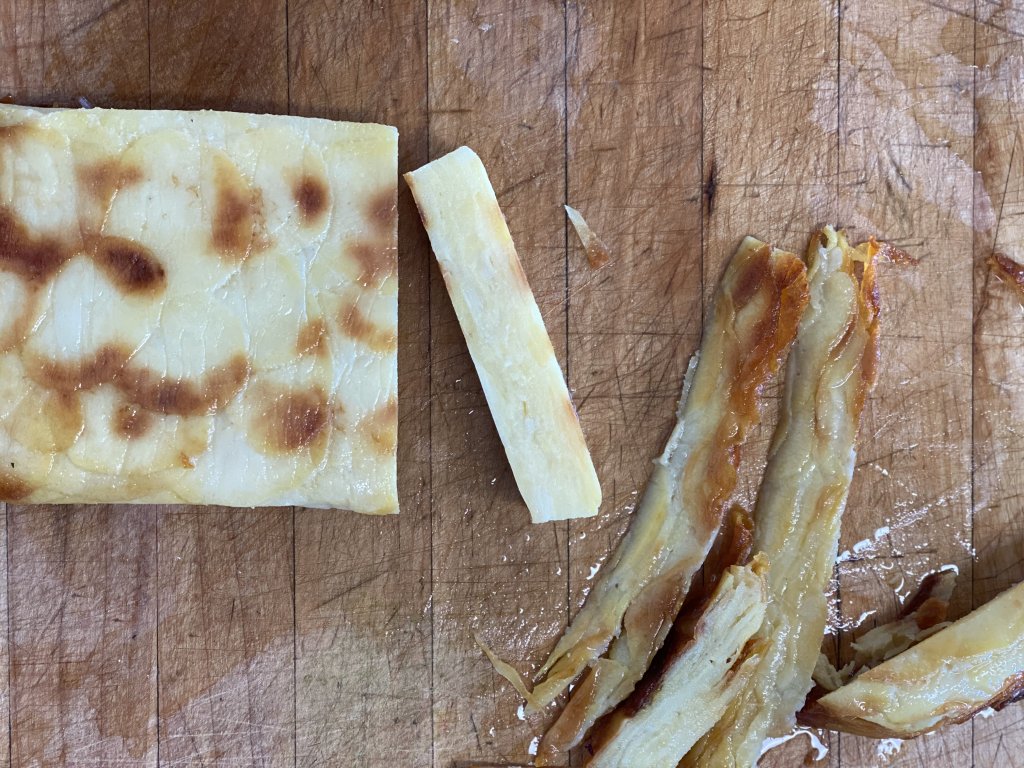 When the pavé is completely cool, turn it out onto a chopping board and slice it into 4cm x 10cm pieces.  Place a large frying pan on a medium heat and add a good glug of oil.  Carefully shallow fry the potato pieces in the oil, sliced layer-side down.  Try not to push the potato pieces about in the pan to minimise any chance of collapse or breakage.  Fry for about 3 minutes until crisp, then carefully turn and fry on the other sides.  Remove from the pan onto some kitchen roll to absorb any excess oil.  Then quickly fry the sage leaves in the remainder of the oil.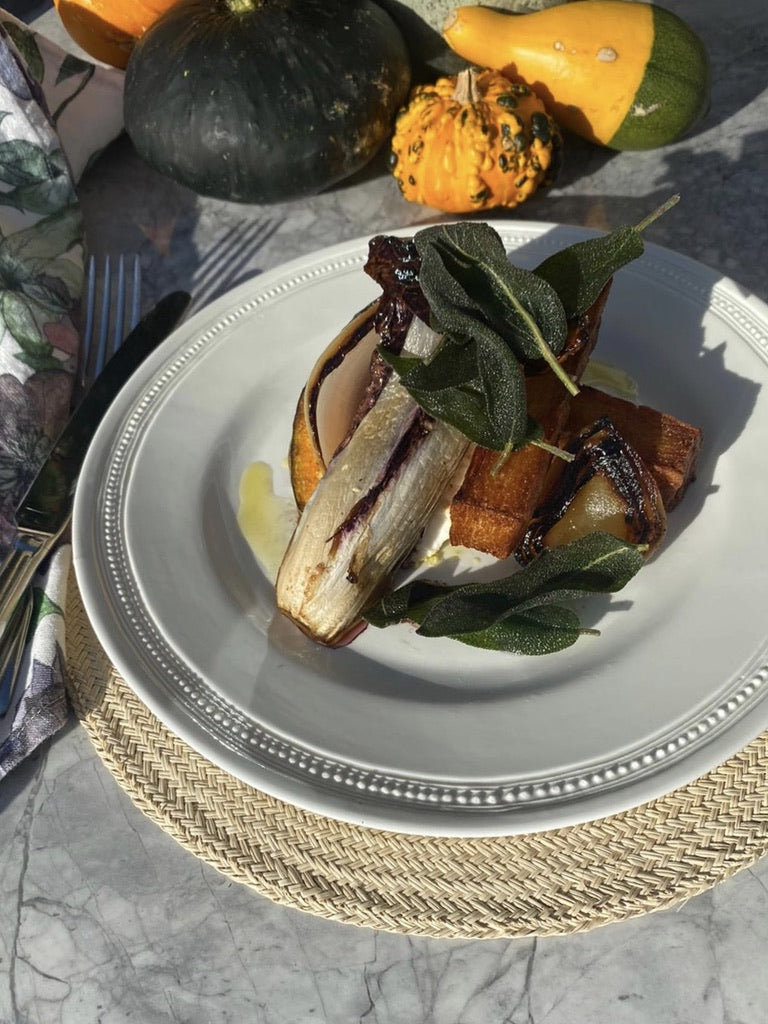 Put a spoonful of the goat's curd onto each plate and stack a piece of the pave against it.  Then place the roast onion on the plate and add place two spears of pumpkin against the stack, as well as a piece of radicchio.  Scatter over the sage and serve.
Enjoy!
BLOG
Latest articles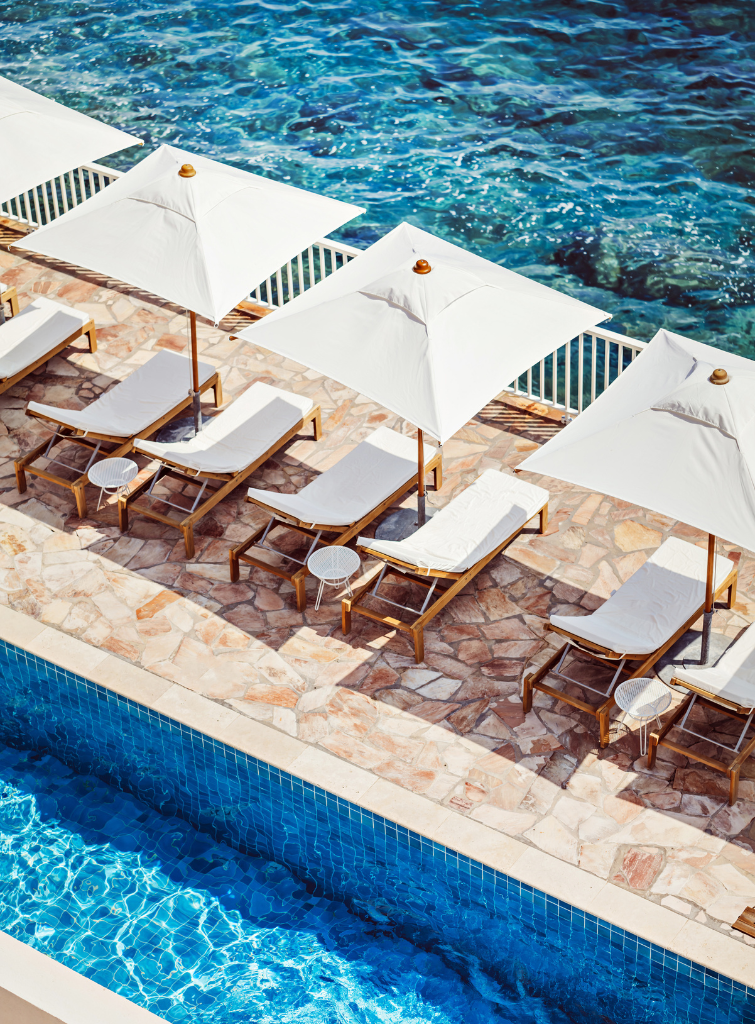 Nestled between the iconic locales of Cannes and Saint-Tropez, Saint-Raphaël presents a tapestry of stunning landscapes and shaded streets. 
Setting the stage for a memorable celebration requires a keen eye for detail and a touch of creativity. Louise Roe, the visionary founder of Sharland...
Bradley Agather is a creative consultant and stylist with an unerring knack for finding the sublime in the everyday. A former fashion editor, Bradley's discerning...