This store requires javascript to be enabled for some features to work correctly.
DESTINATIONS
You've been served: The Ox Barn at Thyme, Cotswolds
Set in the rural retreat of Thyme – a self-contained village within a village in the Cotswolds – The Ox Barn is a contemporary restaurant in a historic building. Get ready for the best of both worlds…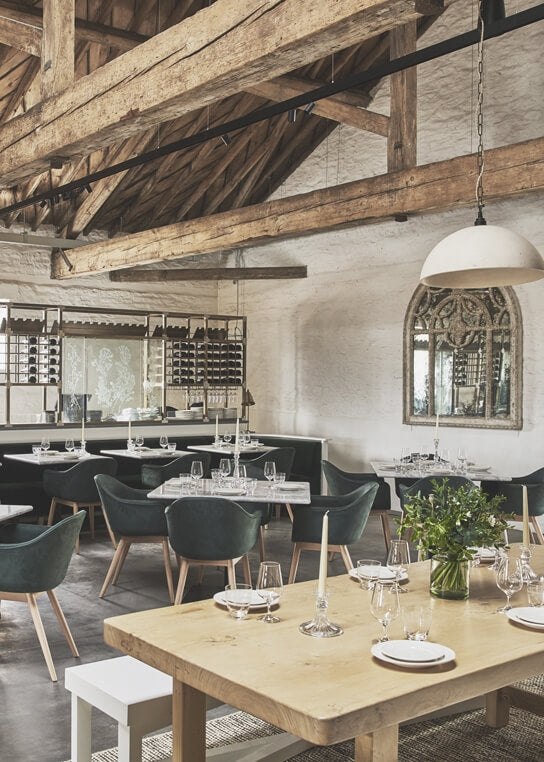 What to expect at The Ox Barn
You'll find The Ox Barn within a converted, former 19-Century oxen house – an architecturally impressive space with soaring ceilings. Which makes sense, because Thyme – the converted manor and farm in which it's set – is driven by a passion for local heritage, beauty and conservation. Accordingly, The Ox Barn pays homage to its past – think a striking stone rubble facade and original beams overhead, made more modern with Scandi-inspired furniture in nature's best tones. Making it even more contemporary still are a contemporary bar and seven-and-a-half metre Charvet open kitchen, where Head Chef Charlie Hibbert puts this historic building to work.
What's on the menu at The Ox Barn?
Whether you're stopping in for breakfast before heading into the great outdoors, or refuelling after a long day exploring the open countryside that surrounds you, you're guaranteed fresh-made, modern menus crafted using local ingredients. Traditional meals have been given a modern twist (reflecting the design of the restaurant itself) – meaning roast lamb is served with salsa verde, and salmon is garnished with sour cream and pickles. It's a best-of-both-worlds approach, and one that's sure to please everyone, any time of the day.
Discover
The Thyme Collection