This store requires javascript to be enabled for some features to work correctly.
THE FLÂNEURS
Meet Bella Bowker, Creator of Sew Bella, London
Bella is a self-taught embroiderer who creates tiny colorful interpretations of things with thread, to help you jazz up your tabletop.Her hand-stitched napkins representing tiny little shellfish are her signature item and are becoming a must-have among tablescapes lovers.We sit down with Bella to find out her favorite design, her dream commission and how many stitches of thread each design needs.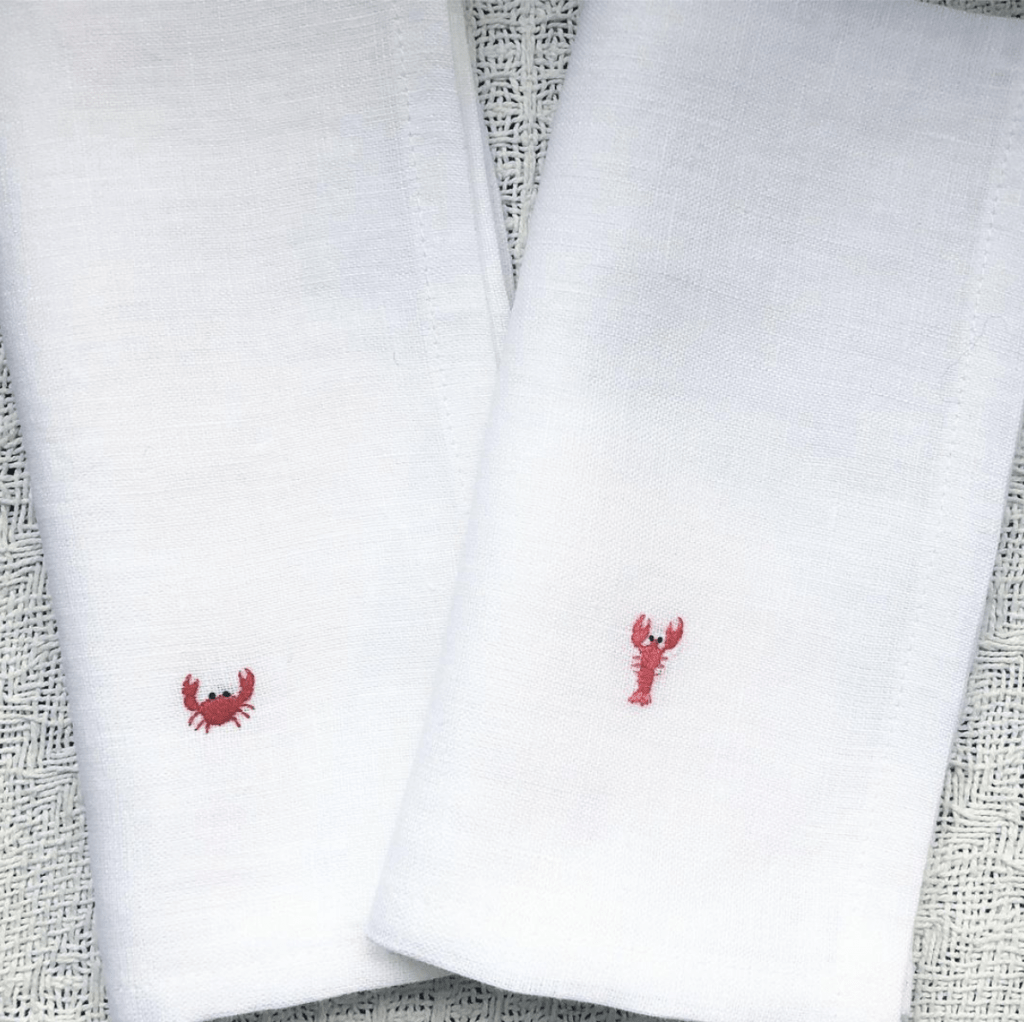 Could you tell us three things about you?
1. I love food and drink – my first napkin set was a set of vegetables – so I take lot of inspo from things I eat. 
2. I'm a born-and-bred South Londoner.
3. Sunshine fills me with so much joy – I think it's the route to all happiness. 
What is the story behind Sew Bella?
I broke my leg in my first year at university, and was on crutches for about 5 months. Bored rigid and needing a creative outlet, I picked up a needle and found a passion! I wanted to find a way of adding some fun personality to a tabletop – all the napkins I had found previously felt a bit antique-y, old-fashioned or super plain and drab – and from this Sew Bella was born. 
What was your other career in?
I had worked in Customer Experience for a while prior to Sew Bella – in two very different small companies. One was a beer delivery subscription service, and the other was a clean air technology company.  
What's the funniest thing someone ever commissioned?
There's honestly been so many! Some of them are super niche; I spent last week recreating the infamous Pyramid Stage at Glastonbury Festival. The funniest probably has to be a white cat on a white napkin, which really challenged my stitchin' abilities. 
What is your dream commission?
My absolute dream is a fully foodie/drinkie commission. I love creating little miniatures of branded products – it's fascinating to try and bring in the 'brand' in such a tiny space. I recently embroidered a packet of Walkers crisps which was amazing.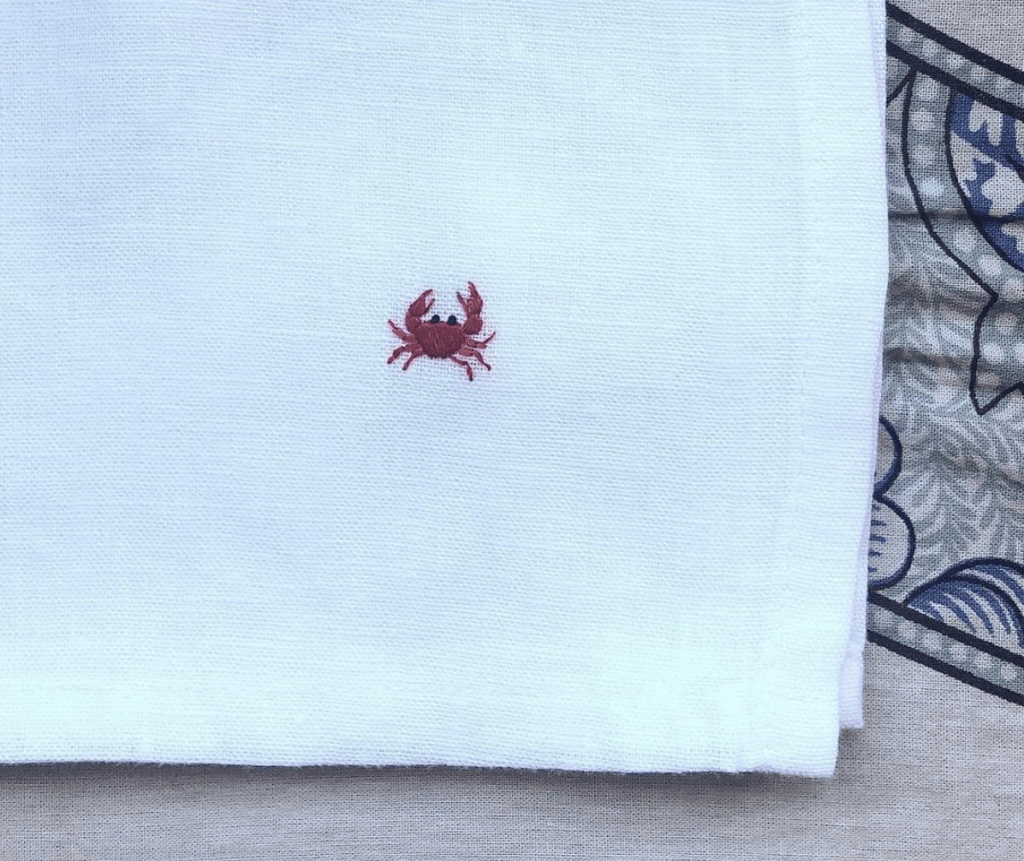 Do you have a favourite design?
Argh, I change my mind every time I do something new! I really love the Rainbow Veggie set – and I think the bright pink radish has to be my favourite. It's so eye-catching. I also love the Mimosa napkin set as it combines several different stitches. 
Is there something about your embroideries people might not know about?
They are so time consuming to create! Not only are they hand-made by a lovely lady in Greece, each one is lovingly designed & stitched – I think there's around 500 individual stitches of thread in each design.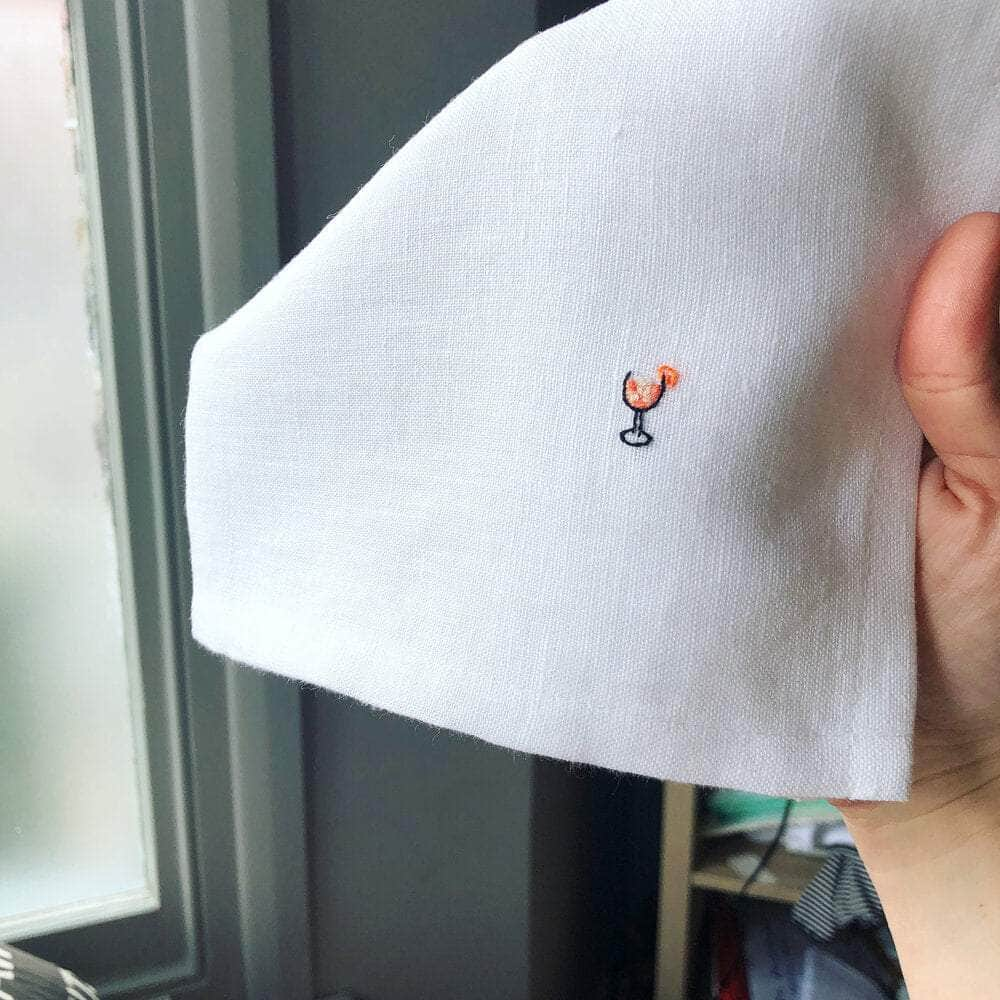 Do you think the confinement has changed the way people see their homes/tables?
100%! My appreciation of a house vs a home has dramatically changed over the past year – where I would have used my house as a base for sleeping, slow evenings and lazy weekends, I now actively try and make sure it's the most homely, welcoming and lovely place to spend time in. The same for the tables – not being able to eat out meant that we had to create our own 'occasions' – although I think this will really come into its own as people begin to host again. 
What are your tips for the perfect table setting?
Let your personality shine! Whatever that may be, there's nothing more satisfying than looking at a table and thinking 'that's a bit of me'. For me, I wear excessively colourful clothing, I love bright and structural flowers, and pattern-clashing makes me happy – so I will always try and top the table with some fabulous florals, a bright and funky tablecloth, quirky plates – and of course, a set of jazzy Sew Bella napkins. 
Any wishes for 2021?
I'd love to see Sew Bella grow and grow, and with that, begin to focus on expanding the business. I already have plans to get a machine to make the more 'off-the-shelf' napkins, and I'm working on getting a studio space. There's so much to be excited by. Oh, and to get a campervan and go on a mini-adventure around the French wine regions. 
BLOG
Latest articles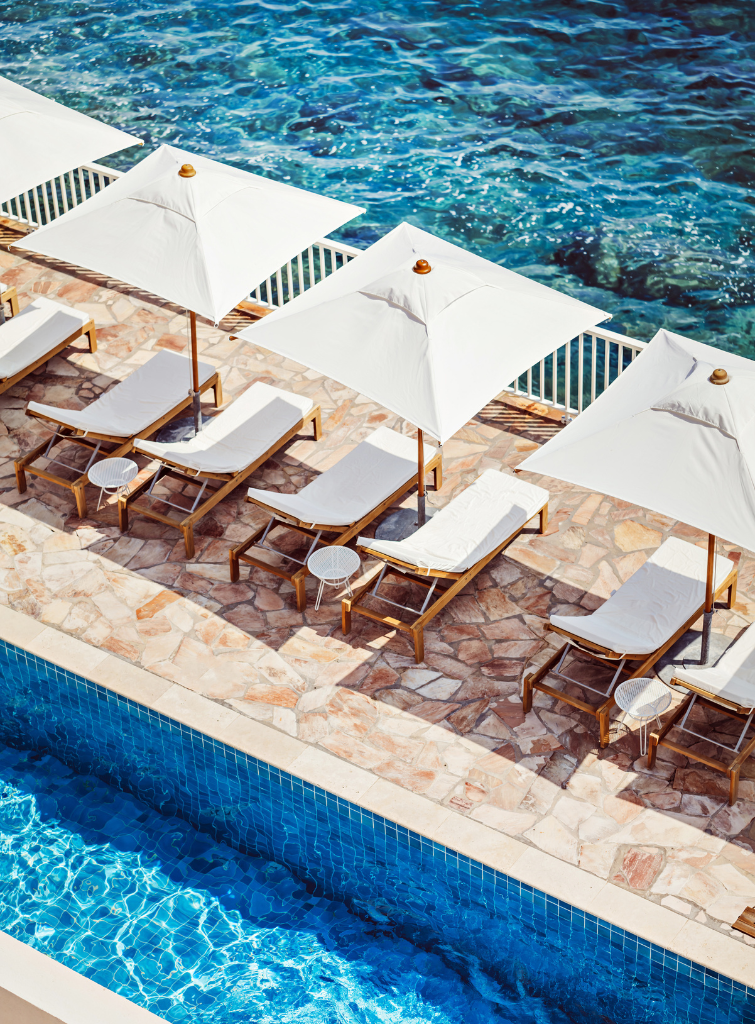 Nestled between the iconic locales of Cannes and Saint-Tropez, Saint-Raphaël presents a tapestry of stunning landscapes and shaded streets. 
Setting the stage for a memorable celebration requires a keen eye for detail and a touch of creativity. Louise Roe, the visionary founder of Sharland...
Bradley Agather is a creative consultant and stylist with an unerring knack for finding the sublime in the everyday. A former fashion editor, Bradley's discerning...